iBwave Mobile Survey: Private Network Mobile Survey Solution. iBwave Mobile Survey is a powerful and intuitive Android app that completely simplifies the private network site survey process with accurate site survey information.
iBWAVE MOBILE SURVEY

(for Private Networks)

THE SIMPLEST WAY TO SURVEY PRIVATE NETWORKS.
iBwave Mobile Survey gives you a simple and seamless way to survey both Wi‑Fi and Cellular networks at the same time with only your Android mobile device - no additional equipment or software needed. Simply use your phone or tablet on-site to collect Wi‑Fi survey data as well as Cellular data (2G, 3G, LTE or 5G) simultaneously.
You can also document your site as you go – take pictures, capture notes and save them to pushpins on the floorplan making it simple to refer to later during the design phase. Once done, view your survey data in the interpolation heatmap to understand the full Wi‑Fi and Cellular coverage of your site. Accelerate the survey phase of your Private Network projects with iBwave Mobile Survey.
View datasheet (w/ full Feature Set & KPIs)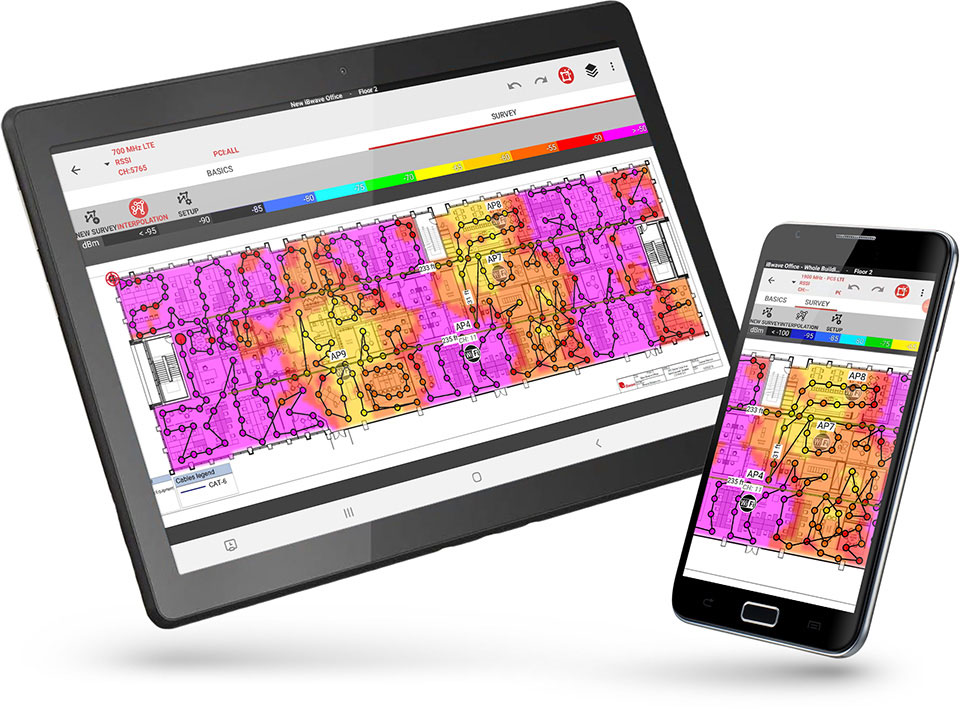 ---
ONE POWERFUL PRIVATE NETWORK SURVEY TOOL
Collect Wi-Fi & Cellular survey data simultaneously
Collect survey data using just your mobile device OR integrate with third-party scanning tools
View survey interpolation heatmap to understand full wireless coverage
Collect site information and save to geolocated pushpins on the floorplan
Download and view saved design plans from iBwave desktop software via iBwave Cloud
Easily transfer your survey measurements to iBwave desktop software via iBwave Cloud
Generate survey maps report
Flexible Modular Licensing
Android-based for tablets and phones
Seamlessly survey Wi‑Fi and cellular networks with Mobile Device
iBwave Mobile Survey gives you the flexibility of collecting both cellular and Wi‑Fi data at the same time using either just your mobile device or by integrating with third-party collection tools.
Collect survey data using just your mobile device
Technologies: LTE, 5G, 4G, 3G, 2G, 802.11 a/b/g/n/ac/ax
Wi-Fi KPIs: RSSI, CCI, Throughput, and more.
Cellular KPIs: RSSI, RSRP, RSRQ, SINR, and more.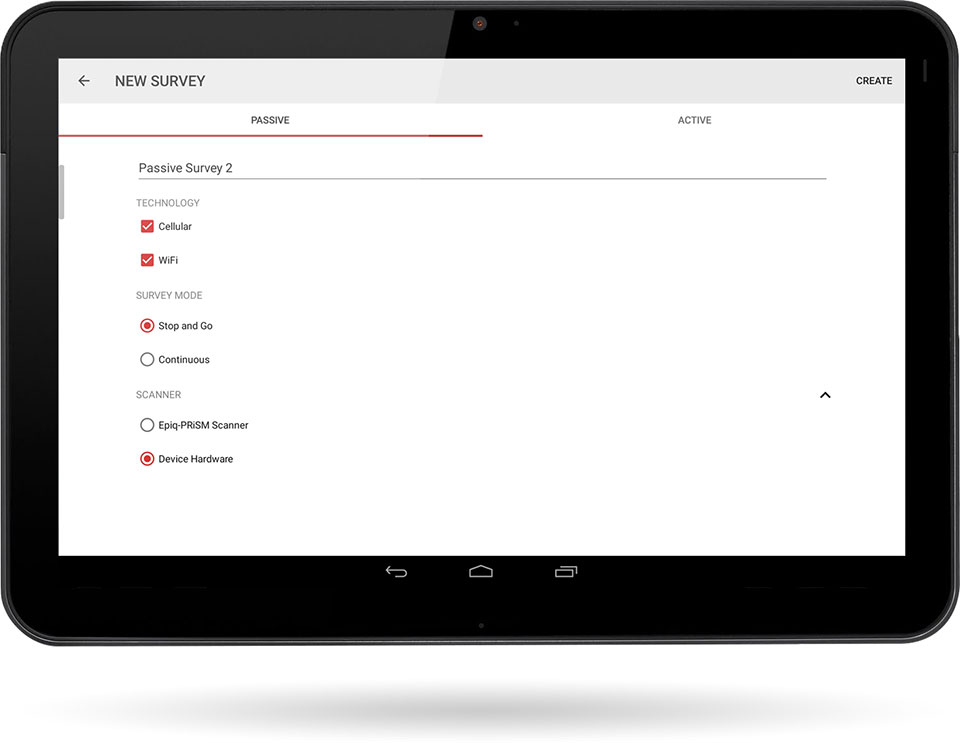 Third-party integration
Collect survey data using any of the leading third-party solutions on the market.
Seamlessly integrate with Epiq Solutions' PRiSM™ scanner
Lightweight and low-visibility hand-held device that magnetically attaches to your phone or tablet to survey P25 networks.
Seamless integration to iBwave Mobile Survey for a simplified end-to-end survey and design experience.
VIEW P25 SURVEY DEMO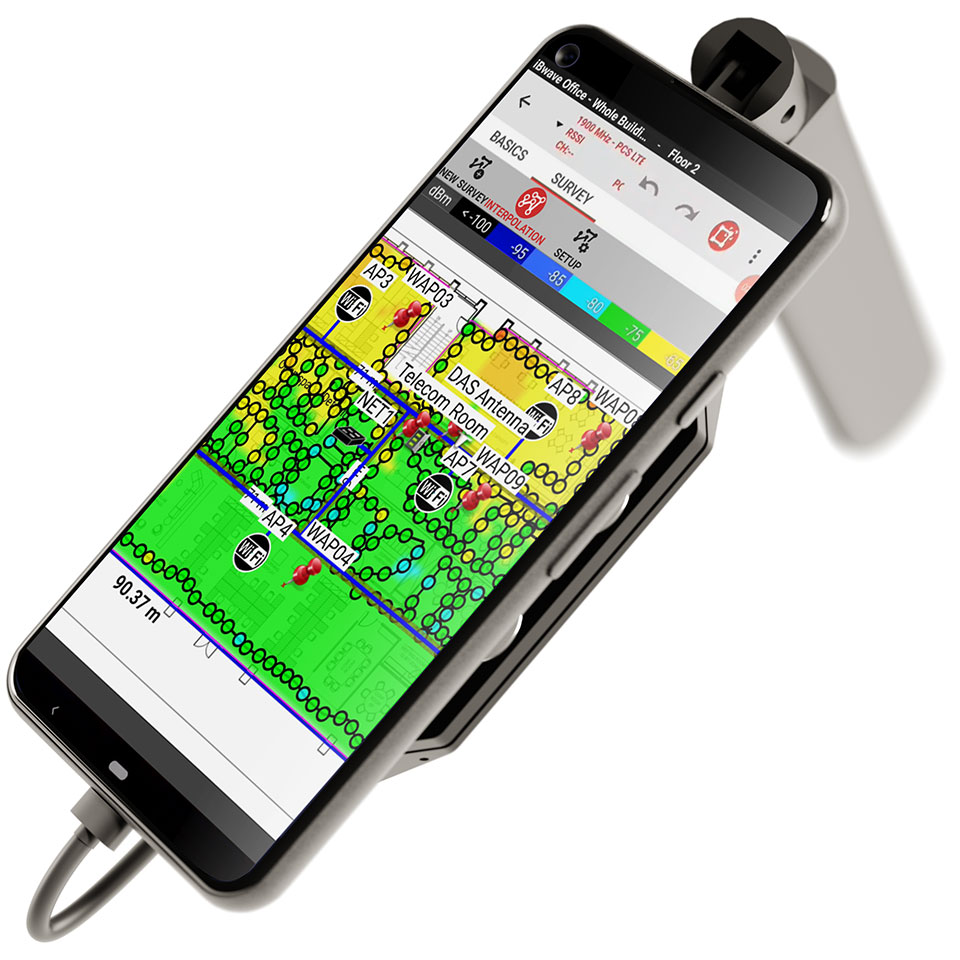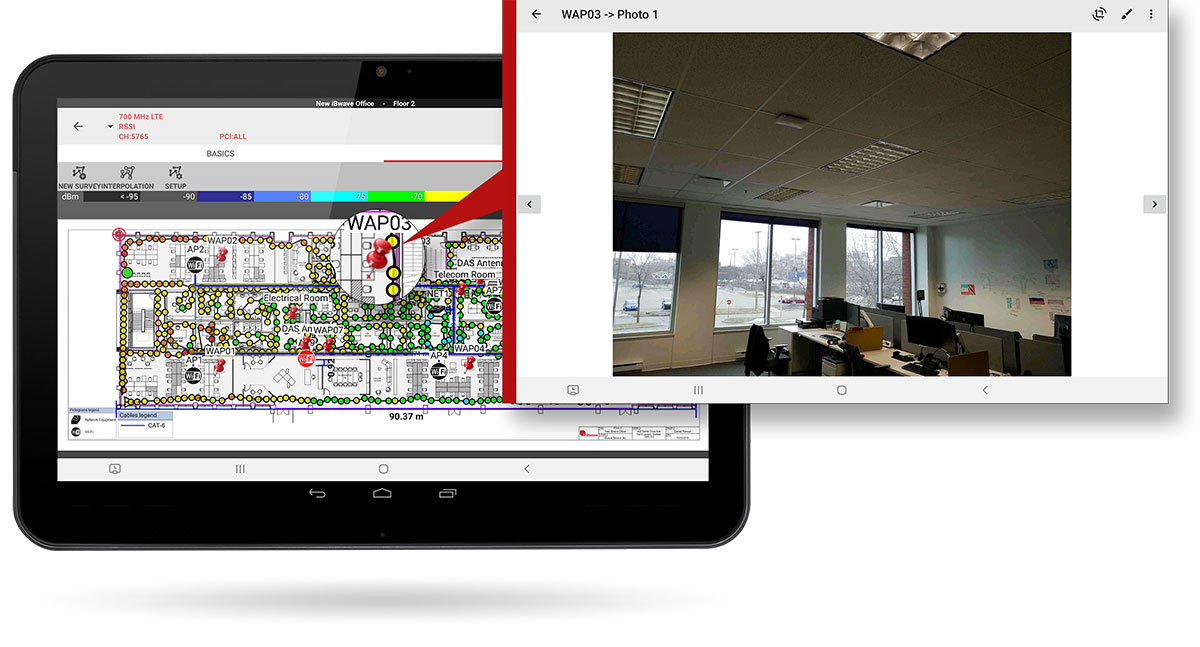 View design plan and collect private network site documentation
Use your mobile device's built-in camera to capture site images and videos as you walk the site and save them to geo-located pushpins on the floorplan. Add text or voice notes to note important details about what you're capturing. Once done, save it all to the cloud so you or your teammate can view your annotations on the floorplan as you do the design in iBwave desktop software.
Easily collaborate with your team and customers
Use iBwave cloud or iBwave's advanced cloud – iBwave Unity – to easily share survey data and site documentation gathered on-site. Save survey data and site documentation to the cloud to review during the design phase – and then use the cloud again to download and view the completed design plan as you walk the site doing your validation survey.
Also use iBwave's free read-only iBwave Viewer to share design plans and project information with your customers and other project stakeholders.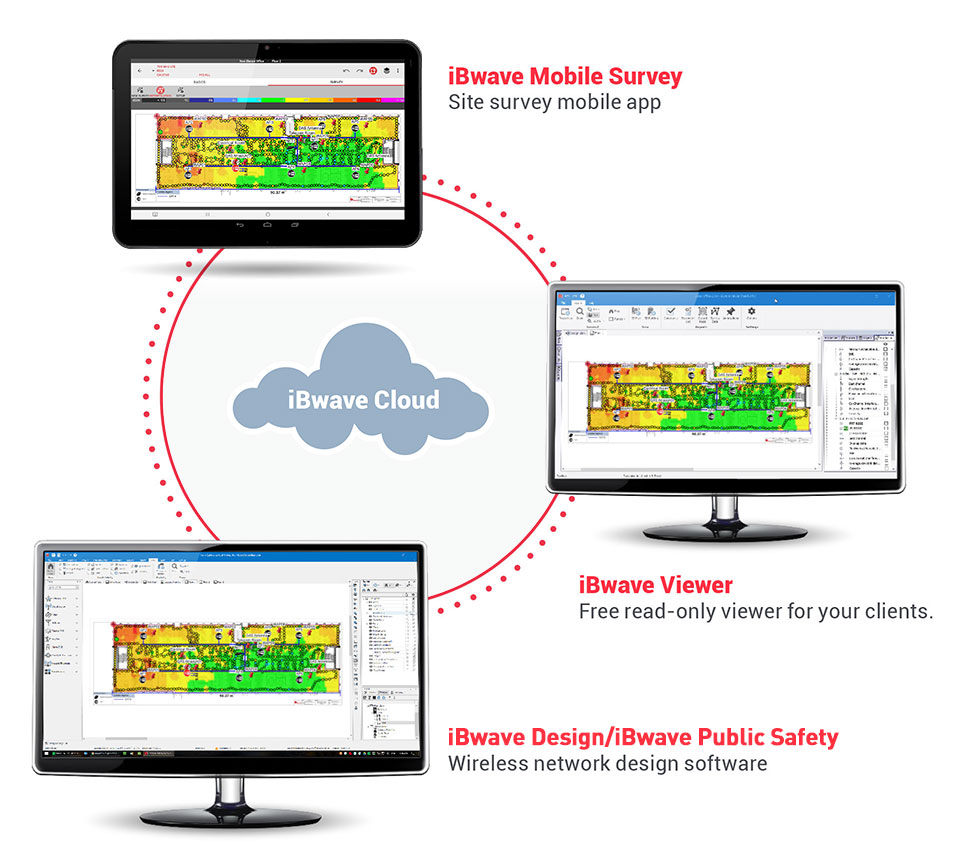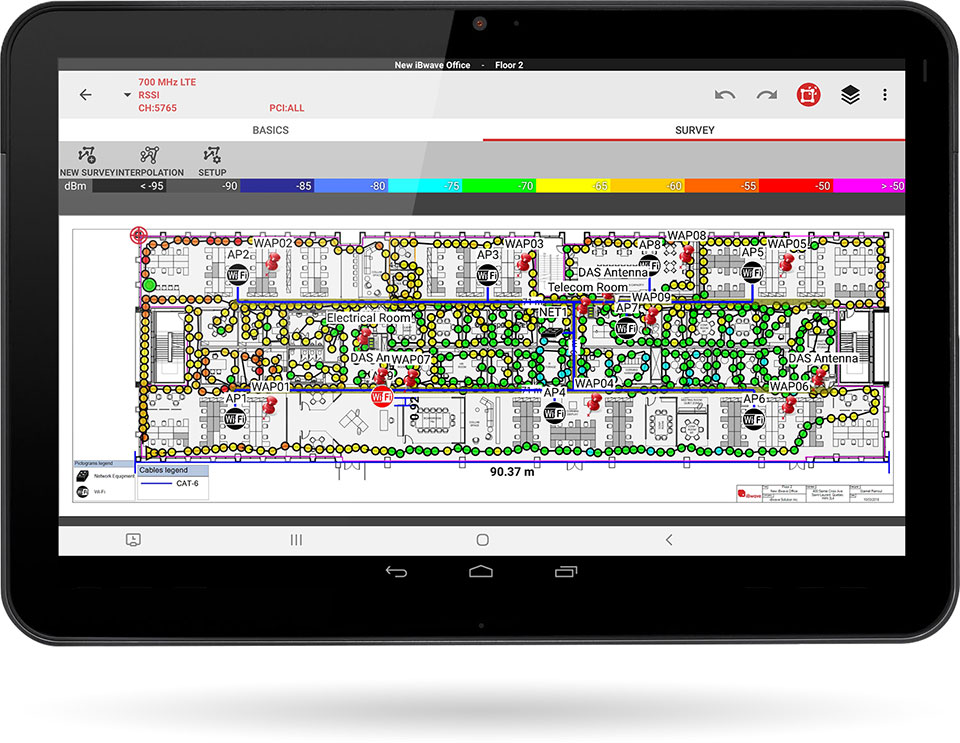 Modular licensing with flexible usage
Available as a base model, base model + collection, or base model + collection + Interpolation so you buy and use only what you need.
Base Model:
Includes ability to view design plan, capture site documentation and collect data via integration with your third-party app (see full list in Feature Set).
Internal Collection Module:
Add the collection module to enable the collection of Wi‑Fi and Cellular survey data using your Android device. Collection module is also required to enable the use of the Epiq Solutions' PRiSM scanner and the surveying of P25 networks.
Interpolation Module:
Add this module to view the interpolation of your collected survey data points and understand the whole picture of network coverage.

| | | |
| --- | --- | --- |
| Collection tools | | Integration with iBwave Mobile |
| XCAL-Harmony | | |
| XCAL-Mobile | | |
| TEMS Pocket (single device only) | | |
| Echo One | | |
| Echo Plus | | |
| FalconKit | | |
| Nemo Handy | | |
| Nemo Walker Air | | |
| PCTEL SeeHawk Engage | | |
| PCTEL SeeHawk Engage+ | | |
| PCTEL SeeHawk Touch | | |
| WINd Pro (multiple devices & scanner supported) | | |
| QualiPoc Android | | |
| QualiPoc Freerider (scanner supported) | | |
Need a full-featured mobile app that lets you perform better site surveys and even create a network design right on-site? Discover iBwave Mobile Planner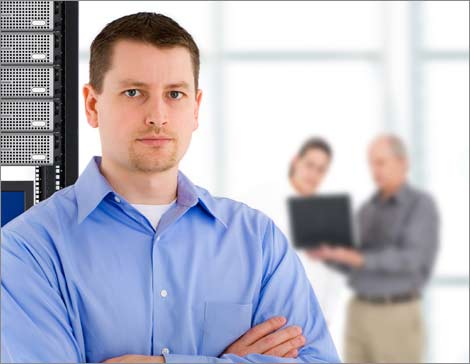 Support services
We offer a full list of services such as building and environment modeling, creation and certification of components, and legacy project design conversion to the iBwave format.
VIEW SERVICES
Annual maintenance services
iBwave's entire product suite is covered by an optional Annual Maintenance Service for full customer support, and access to updates and upgrades on all our products.
LEARN MORE