"iBwave allows us to quickly and easily import, scale and depict architectural drawings. From this our design engineers can accurately scale a building's architecture along with layouts, fittings and fixtures."
- Sam Lee, Chief In-Building Architect at Virtua -
Virtua's In-Building teams survey, design and install intricate solutions for a variety of venue types. With solutions for both cellular and Wi-Fi, they ensure connectivity regardless of project complexity. These solutions are typically installed for expansive sites requiring coverage over vast areas – for example hospitals, stadia and multi-storey offices.
Virtua offers a complete turnkey service – from initial site surveys right through to the design, build, test/commission, optimisation and "go-live" activities. They are based in Swindon, Banbury and Cardiff, UK.
INTRODUCTION
The Virtua team were awarded the opportunity to implement a dedicated in-building cellular solution for the skyscraper at 20 Fenchurch Street in London (also known as the Walkie-Talkie building), with the requisite of providing 2G (GSM), 3G (UMTS) and 4G (LTE) services by opening day.
In a separate project, they were also commissioned to provide a complete indoor and outdoor cellular solution within the newly built Dumfries & Galloway Royal Infirmary Hospital facility. The solution had to be capable of supporting all four of the UK's mobile network operators (MNOs), across all five of the European cellular frequency bands – and allow a combination of any radio access technology (RAT).
Here's where it gets interesting: wireless network designs for different types of venues often have distinct workflows, concerns, and challenges. It isn't as easy as replicating a successful past project for an entirely different type of locale. So how was Virtua able to ensure their proposed network designs left stakeholders at the Dumfries & Galloway hospital and the Fenchurch skyscraper equally ecstatic?
THE CHALLENGES
EDUCATING AND ENGAGING PROJECT STAKEHOLDERS
Every wireless design project begins with its own goals. The Walkie-Talkie building owners requested access to seven different wireless technologies as part of their objectives. Project stakeholders were concerned with hard to connect areas such as lifts, service rooms, and basements receiving ample connectivity. Since the building was still in construction at the time of network design conception, continual coordination between engineers and property managers was paramount.
The Dumfries and Galloway hospital had its own set of difficulties, dealing with a vastly different architecture than a high-rise, as well as operating in an industry where health and safety are of the highest concern. Nonetheless, a common challenge between these two projects was ensuring that stakeholders felt engaged and educated during every step of the design process, from conception to completion. With coordination and communication being essential elements to any wireless design project, Virtua needed to ensure its clients were involved in the entire process. This can prove to be difficult when clients don't have the same level of technical expertise as engineers.
CHOOSING THE RIGHT EQUIPMENT
When we compare the use-cases of a skyscraper to a hospital, it quickly becomes apparent that each project requires its own tailored solution. As seen above, both jobs had vastly different goals, and thus required their own equipment and components.
With tens of thousands of different types of components used every day around the world, choosing the correct equipment can be a daunting task. Obviously, the necessary equipment required for a hospital network is unlike that needed for a commercial skyscraper. Even for experienced system integrators and operators, comparing, choosing and purchasing the right components for the right project can be challenging.
Since Virtua handle projects with different scopes, goals, and topographies, they're constantly referring to component lists to ensure optimal equipment is used in their designs. Scattered and fragmented part information can make it challenging to ensure the correct components are used.
GETTING THE MOST OUT OF DESIGN TOOLS
Even the most seasoned engineers require hundreds of hours of experience under their belt before design projects become straightforward. Every application has its own quirks, tricks, and characteristics. Without proper training and certification, engineers won't benefit from the entire suite of features at their disposal. And as Virtua is well aware, design projects often need to be completed under strict time limitations.
Like design tools, projects themselves have their own nuances and oddities that can make them tricky to complete without proper engineer training.
"iBwave's comprehensive list of wall materials containing transmission loss data ensures confidence in our predicted coverage propagation models."
- Sam Lee, Chief In-Building Architect at Virtua -
THE SOLUTION
iBWAVE DESIGN ENTERPRISE
The most productive way to deliver all of your wireless network projects. With multi‑technology, multi‑building support, advanced 3D modeling, coverage and advanced capacity simulations for increased network densification, iBwave Design Enterprise is the most powerful software to design large and complex in‑building wireless networks.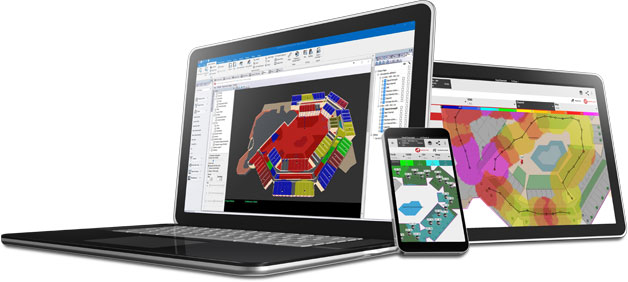 "As well as a comprehensive and regularly updated software suite, iBwave also provides a world leading technical support service offering both in-country and remote guidance. This includes design training programs of which Virtua UK Ltd engineers hold a number of accreditations."
- Sam Lee, Chief In-Building Architect at Virtua -
THE RESULTS
3D VISUALIZATION AND REPORTING TOOLS
With iBwave, Virtua was able to keep project stakeholders engaged and involved in every step of the design process for both the Walkie-Talkie building and the Dumfries and Galloway Hospital.
After performing detailed site surveys which enabled the design team to study the layout and architecture of both buildings, data was collected and used to create 3D scaled models within iBwave Design Enterprise.
These models allowed their team to simulate and predict how cellular activity would behave within the medical facility – ensuring sufficient coverage and enabling a high level of uncompromised data throughout. In the Walkie-Talkie building, the DAS architecture and system schematics were produced using 3D models. Each floor was constructed electronically to aid in the detailing of the proposed coverage. This information was backed up with on-site RF testing later on when the building had acquired windows, internal walls, and other fixtures that determine how RF propagates through a building.
In both projects, a detailed handover pack was produced and submitted to the property manager to ensure they were aware of critical information necessary to complete the job. iBwave's automatic report generation provided documentation on equipment lists, bill-of-materials, and coverage heat maps that was convenient and easy to understand for building managers. Ultimately, it was this constant communication and engagement that assured Virtua's partners that they were the right organization for both of these high-profile ventures.
USING iBWAVE'S DATABASE TO FIND THE CORRECT COMPONENTS
One of the key features of the iBwave Design solution is its extensive component database. There are over 35 000 unique parts from more than 300 vendors worldwide, with a wide range of devices that can handle different technologies. In the rare instance where a specific component can't be found in the directory, engineers can manually add their own parts or materials to the database. These can then be added in future projects which use the same tech.
Skyscrapers and hospitals each have their own set of cabling and equipment needs, and many other types of venues have similar restrictions. Regardless, Virtua are able to access the entire database as needed, no matter the complexity of the project. It also allows custom filtering, so Virtua's engineers were able to limit the listed equipment available to those approved for deployment in the Walkie-Talkie building and Dumfries and Galloway hospital.
EXPERT ENGINEERS
Virtua are requested to take on and can handle many different types of projects, so how have they been able to guarantee that their clients come away satisfied regardless of design scope?
With iBwave's thorough and award-winning training and certification program; that's how. Virtua's engineers hold a number of accreditations from iBwave's Certification Program (iCP) to enable them to get the most out of the software suite no matter the project type. Students of the program can attend courses virtually or in-person, which proved to be extremely convenient for Virtua's engineers, since they are deployed all over the U.K.
For the rare instances where advanced support is needed, iBwave offers technical help on a 24/5 schedule via phone, email, or chat. Virtua's engineers are also part of iBwave's Wave Runners community, where they can connect with like-minded industry professionals and discuss best practices in a variety of use cases.
So whether it was a 35-story skyscraper or 345 rooms spread across a hospital compound, Virtua engineers were empowered and prepared to handle the challenges associated with each project thanks to expertise with the iBwave software suite.